As an island, Ireland is dependent upon imports via air and ocean with an increased population resulting in greater volumes of product through the major transportation hubs. CityNorth is highly accessible from all international ports and as such is extremely well placed to cater for the increasing demand for warehousing/ manufacturing accommodation.
CityNorth's location on the M1 is ideal as avoiding the busy M50 motorway, especially at peak times, significantly reduces travel times to the major transportation hubs.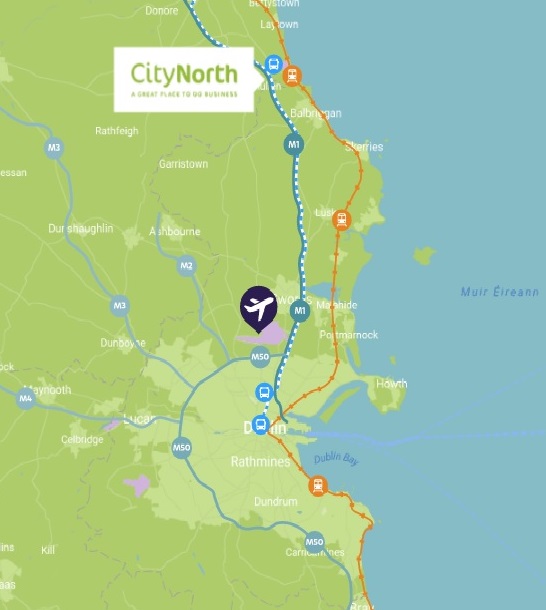 Dublin Airport (12mins)
Dublin Airport is located just off Junction 2 on the M1, approximately 12 minutes from CityNorth.
Dublin Port/ Port Tunnel (20mins)
Dublin port is accessed directly off the M1/M50 crossover via the port tunnel, and is approximately 20 mins from CityNorth.
Motorway Network (12mins)
CityNorth is located on the west side of the M1 at Junction 7 providing excellent access to both Dublin and Belfast. Travel times to both City Centres is 25 mins and 90 mins respectively. The M50 is an orbital motorway ring that connects the north and south of Dublin city, bypassing the city centre and providing rapid access to all major arterial routes around the city. Travel time from the most northerly exit (M1) to the most southerly exit (N11) is approximately 20 minutes. The M50 Junction 3 (M1) is approximately 12 minutes from CityNorth.
Train
CityNorth is within close proximity to Gormanston, Drogheda, Laytown and Balbriggan train stations which runs a regular train service from Bray through to Connolly Station and terminating in Dundalk. The Drogheda station is also located along the Dublin Belfast intercity line.
Bus - Matthews Coaches
Timetables and further information can be found on matthews.ie