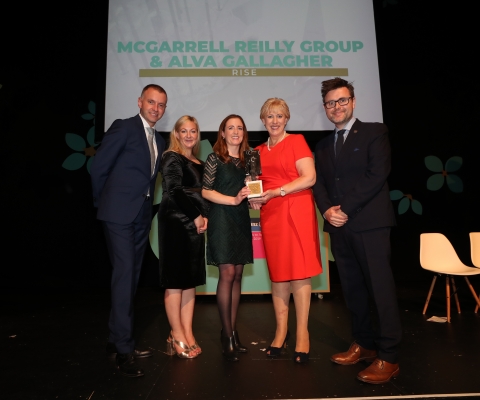 McGarrell Reilly Group & Alva Gallagher Win at the 2019 Allianz Business to Arts Awards
McGarrell Reilly Group and Alva Gallagher were the winners for the Jim McNaughton Perpetual Award for Best Commissioning Practice Dublin for the sculpture 'Rise'.
McGarrell Reilly's brief to artists was to create an original and innovative sculptural installation in response to unique environment, architecture, historic and cultural references associated with the new Sharp Building and its location off Hogan Place in Dublin's South Docklands. 'Rise' is a double-height glass sculpture that is visible from both the interior and exterior of The Sharp Building and can be seen by office staff, local viewers and commuters in the Docklands Area.
Award- winning Irish sculptor, Alva Gallagher, is a visual artist whose work involves a continuous exploration of oceanic movements and elements. She is passionate about the sea and mirrors its ferocity and serenity through the manipulation of her chosen mediums (glass and bronze) from their molten to solid states to explore concepts of depth and rhythm. Alva has exhibited extensively. Recent highlights include the Royal Society of Marine Artists Annual Exhibition at the Mall Galleries, London; CAST at The Wayne Art Institute Philadelphia; The Traver Gallery Seattle, USA; and The Saatchi Gallery, London. Her work appears in State, National and International Collections, including The OPW, The National Museum of Ireland Collins Barracks, BMW and in the iconic 'Gherkin' building in the city of London.
Speaking at the announcement of the winners, Sean McGrath, CEO of Allianz Ireland, said:
"For the last 19 years, the Allianz Business to Arts Awards have remained a source of inspiration to us all at Allianz and the 2019 awards have lived up to the high standards set across the many years of their existence. Yet again we are impressed by the significant mutual benefits derived by both business and arts organisations through their innovative collaborations. Of growing importance within this powerful initiative are the community and wider societal benefits enjoyed by us all when business and arts organisations partner to achieve some truly amazing results. By showcasing what is achieved, the annual Allianz Business to Arts Awards remind us that we are all winners of this truly extraordinary process of collaboration"
Andrew Hetherington, Chief Executive of Business to Arts, said:
'With our partners Allianz, we are delighted to celebrate the 2019 Allianz Business to Arts Awards wining partnerships. These relationships are proof that businesses in Ireland are increasingly looking to arts and culture to address business opportunities and societal challenges. Encouraging creativity is at the core of many of the winning projects. Business to Arts' flagship event continues to enable, develop and support creative partnerships. We call on businesses across Ireland to engage with their arts and cultural neighbours.'
The awards recognise large, mid-sized, small and long-term sponsorships, staff engagement activities, commissioning, corporate social responsibility programme, community engagement and portfolio-based partnerships.