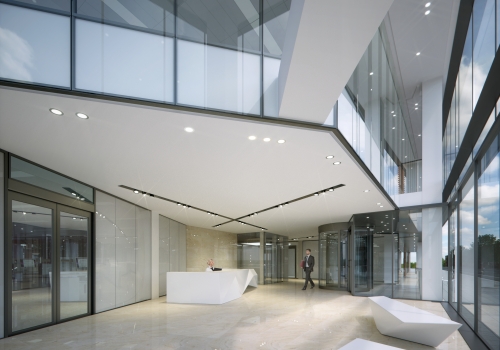 01 Aug 2017
The McGarrell Reilly Group and Business to Arts are very happy to announce that artist Alva Gallagher has been commissioned to create a new piece of sculpture named 'Rise'. The decision was made following the Open Call to Irish and international artists to submit concepts for 'The Sharp Building Commission'.
The brief to artists was to create an original and innovative sculptural installation in response to unique environment, architecture, historic and cultural references associated with the new building and its location off Hogan Place in Dublin's core city centre. 'Rise' is a double-height glass sculpture that will be unveiled in early 2018. It will be visible from both the interior and exterior of The Sharp Building and will be seen by office staff, local viewers and commuters.
Award- winning Irish sculptor, Alva Gallagher, is a visual artist whose work involves a continuous exploration of oceanic movements and elements. She is passionate about the sea and mirrors its ferocity and serenity through the manipulation of her chosen mediums (glass and bronze) from their molten to solid states to explore concepts of depth and rhythm. Alva has exhibited extensively. Recent highlights include the Royal Society of Marine Artists Annual Exhibition at the Mall Galleries, London; The Traver Gallery Seattle, USA; and The Saatchi Gallery, London. Her work appears in State, National and International Collections, including The OPW, The National Museum of Ireland, BMW and in the iconic 'Gherkin' building in London.
Alva Gallagher lives and works in Carlingford, Co. Louth says:
"I am so honoured to be the selected for The Sharp Building Commission and to have my work interwoven into this stunning new landmark building in Dublin's urban landscape. I've already started working with The Sharp Building team on the sculpture and can't wait to see my piece 'Rise' ascend within the double-height reception area of the building. It will be a modern sculptural portrait and represent the evolving future of Dublin City."
McGarrell Reilly Group states:
"McGarrell Reilly is a long-term supporter of the arts and is delighted to now commission a new work of art for The Sharp Building. Alva is a world-class artist, based in Carlingford, Louth, who will bring a beautiful glass art piece to the impressive double height reception of The Sharp Building. We anticipate that this exceptional art piece will be appreciated by future tenants, local residents and all who pass the building. "
Andrew Hetherington, Chief Executive, Business to Arts states:
"With this special new sculpture commission, McGarrell Reilly Group are continuing the tradition of incorporating and bequeathing an artwork into a new building during its construction phase. Alva's proposal 'Rise' is beautiful and imaginative. Her proposal was highly detailed in its artistic and technical specification. The time and effort that Alva took to understand the brief and The Sharp Building in which the artwork would live, resulted in a strong consensus among the panel of assessors."
Alva Gallagher
Alva Gallagher is an established artist who has won numerous awards for her work including The Jim McNaughton/ TileStyle Bursary Award with the Beacon Medical Group at the Allianz Business to Arts Awards, and the 'Work of Distinction' merit award at the 'Heal' Exhibition in The Naughton Gallery, Belfast.
She has exhibited her work extensively in Ireland and abroad. Highlights include the highly acclaimed RSMA Annual Exhibition at the Mall Galleries London, the CultureCRAFT, Derry Londonderry City of Culture Exhibition, The Traver Gallery, Seattle, USA, The Saatchi Gallery London, La Gallerie SEMA, Paris, The European Central Bank, Frankfurt, Germany, European Glass Context Biennale, Bornholm, Denmark and The London Underground with Art Below. In 2009, she was one of 16 artists selected for Pillar of Art at Hof 96 Gallery Berlin and Tokyo and the 'Is Mise Ireland' touring exhibition from Shanghai to the Central Academy of Fine Art in Beijing, China. She received the first Irish Partner Scholarship for Pilchuck Glass School in Seattle USA. She most recently celebrated a sell-out solo exhibition at the Gibson Hotel, Point Village Dublin, Ireland as well as unveiling a new body of sculpture in 'Adaptations' at Farmleigh Gallery, Dublin and will exhibit with the Catherine Hammond Gallery in 2017.
McGarrell Reilly Group
McGarrell Reilly Group is a privately owned property group that has created some of the highest quality developments in Ireland, the UK and Germany. This group prides itself on the quality of their portfolio and constantly strives to add value to each of their projects.
Successfully operating for over 35 years, some of McGarrell Reilly Group's best-known developments / refurbishments / investments include: Iveagh Court Complex, Dublin 2; The Watermarque Building, Dublin 4; P6 in East Point Business Park; 25-28 Adelaide Road, Dublin 2; CityNorth Business Campus; and Spitalerhof in Hamburg.
Over the past 35 years, McGarrell Reilly Group has successfully worked with top blue chip companies to design and build office properties to suit their specific local requirements while meeting their worldwide standards of excellence. McGarrell Reilly Group are proud to count several leading international companies and institutions as clients: Marsh, Mercer, Pfizer, State Street, Cisco, Airbnb, Betfair, Aon, Office of Public Works (Irish Government), various embassies, Jack & Jones and New Yorker to name but a few.
The Sharp Building
The building is named after George Sharp, RHA, an Irish portrait and figure painter who resided at Hogan Place during the early 19th Century. The surrounding area was rich in heritage and popular amongst architects, sculptors and artists including Irish sculptor John Hogan, whom the street is named after. This new 6 storey, over-basement office space, in the historic heart of Dublin 2, will transform the streetscape of Hogan Place.