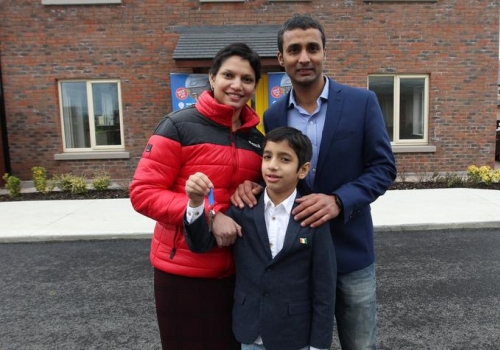 18 Feb 2020
Venkat Reddy Acapelli can still remember the moment his life changed forever.
"It was exactly 10.33pm on Monday, December 30th, I got a call from a new number that I didn't recognise. It was Kieran [Callaghan]," he smiled.
Venkat, a native of Hydrabad in south India, had lived in rental accommodation in Dublin for a decade but that will all change in the coming weeks when he and his family officially move into their beautiful new home, which he won in Cavan GAA's Win The Dream In Dublin 15 draw six weeks ago.
The keys to the property, which is located in Huntstown, Dublin 15, were handed over to Renkat, wife Ambica Chada and eight-year-old son Gautam on Thursday on what was a very special day for the family – and Cavan GAA, too.
"Winning this house is just a wonderful gift. I cannot express how happy we are. I would like to thank Cavan county board for hosting this raffle. Words are not enough to express my gratitude to them," Acapelli told The Anglo-Celt.
"In particular I would like to say a special thanks to chairman Kieran Callaghan and the committee members, supporters and the builders, McGarrell Reilly Group."
Venkat came across an advertisement for the competition on social media and purchased his ticket on December 29, not expecting to win but happy, he said, to support a voluntary community organisation like the GAA.
"I saw this campaign on Facebook about 15 days before the draw and when I saw it, I immediately decided that I wanted to buy a ticket," he said.
"My son is only eight years old, he plays cricket for YMCA Sandymount at U13 level. He is playing a different sport but the GAA is a similar cause, doing things for a good cause, trying to improve their facilities for men and women and especially for the next generation.
"That was the reason I decided to support it. I then bought the ticket the day before the draw. I often spend 100 on unnecessary things but I wanted to be part of this good cause, giving back even if I didn't win. I didn't expect to win!"
When the fateful phone call from the county chairman came in, Venkat's wife was in the bedroom of their city centre apartment, reading their son a bedtime story.
"He said 'can I speak to Venkat?', I said 'yes, I am speaking'. And he said 'congratulations, you are the winner of the house'. I was shocked and surprised and then I remembered I had bought the ticket.
"I asked Kieran, 'is this true?'. I said 'I am really sorry to ask you this but how can I verify this?'
"He explained to me that I could go to the website and also watch the live stream back from 36 minutes in."
In the bedroom, his wife and child heard the commotion.
"He asked me 'why is Dad screaming at this time?' and I said 'he definitely won something' but I thought it was something small," she smiled.
"And then he came in and said we won a house!"
"And then," joked Callaghan, "he rang me four times that night!"
The couple sat up savouring their success until the early hours before calling their parents back home.
"We had to explain it a few times. It's unbelievable, they don't do anything like this in India. In many states, lotteries are banned," said Venkat, who recently trained as a mortgage advisor and had actually passed through Cavan "three or four times" on the way to a religious temple.
"We were saving for a mortgage, we had a plan," he beamed.
For Callaghan, this was the culmination of many months of effort.
"It's a brilliant day for Cavan GAA," he said of the draw, which saw over 11,000 tickets sold at €100 each.
"The draw was very successful, the response around the country and in America was just brilliant, the Cavan diaspora all over the world really got behind us.
"The funds raised will go towards the Polo Grounds Centre of Excellence which will include three new full-size pitches at the back of Kingspan Breffni, which will leave us with six pitches in Kingspan Breffni, in the centre of Cavan.
"This sets us well on the day to getting a start made, we have acquired the land and this puts in a great position moving forward. It really sets us up to start the development within 12-18 months. There will be other fundraisers.
"There was an awful lot of hard work done by a committee under the chairmanship of Gerry Brady at the start and we drove it on. McGarrell Reilly Group allowed us to have a great product, a quality house in Dublin which brought a lot of credibility to it.
"Apridata, who are based in the digital hub in Cavan, were a phenomenal help on digital marketing. The committee in New York did an unbelievable job as well. The hours that the volunteers put in was incredible. I want to wish Venkat and his family the very best of luck."
Sponsor Sean Reilly of McGarrell Reilly Group was proud of the efforts of all involved.
"We were delighted to partner Cavan GAA on this very ambitious project. We know from our days in Cavan that GAA is the backbone of every parish in the county and the ambitious plans Cavan county board have is a credit to them. It was great to see the winning family so happy, we wish them all the best and congratulate everybody involved."
"And," smiled Callaghan, "we have three new Cavan fans as well."