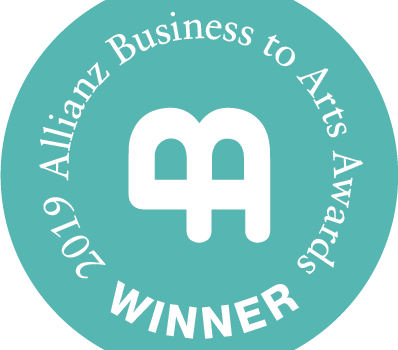 12 Sep 2019
McGarrell Reilly Group were among the winners in 11 categories at the 28th annual Allianz Business to Arts Awards ceremony at the Bord Gáis Energy Theatre on September 3rd.
The 2019 Allianz Business to Arts Awards received significant levels of entries in its 28th year, showcasing a diverse range of creative partnerships incorporating architecture, dance, design, film, music, literature, theatre and visual art. This year saw increasing regional activity, community engagement and long-term partnerships that are evolving through diverse activation campaigns.
Over €8.5m was spent on arts sponsorships submitted. The Awards recognise businesses, artists and arts organisations that develop creative partnerships and bring businesses and the arts into mutually beneficial relationships across society. The evening was a celebration of the most innovative and creative partnerships in Ireland in 2018/2019.
The 2019 Allianz Business to Arts Awards Winners are:
Award Category County Winners
Best Use of Creativity in the Community Dublin Algorithm & James Earley with various businesses for 'Perpetua'
Best Creative Staff Engagement National Axonista & Irish Film Institute for 'IFI Player'
Jim McNaughton Perpetual Award for Best Commissioning Practice Dublin McGarrell Reilly Group & Alva Gallagher for 'Rise'
Jim McNaughton / TileStyle €10,000 Artist's Bursary Belfast Catherine Creaney
Allianz Community Art Award Dublin SUBSET for 'Grey Area Project'
daa €5,000 Arts Award National Fishamble: The New Play Company
Best Small Sponsorship – under €15,000 value Cork Farmgate Café & the Munster Literature Centre for the 'Farmgate Café National Poetry Award'
Best Long Term Partnership Dublin Avolon & Royal Hibernian Academy for 'Avolon Global Studio Award'
Best Large Sponsorship – over €50,000 value National Grant Thornton & National Concert Hall for 'Female Conductor Programme'
Best Mid-Size Sponsorship – over €15,000 – €50,000 value National Irish Times Irish Theatre Awards in association with TileStyle
Judges' Special Recognition Award for Portfolio of Investment Dublin Dublin Port Company for 'Starboard Home Documentary' with Moira Sweeney, Spirit Level Productions and South Paw Pictures, 'In Our Veins' with Bitter Like A Lemon & Abbey Theatre and 'Dublin City Public Art Programme'
Leading the congratulations among over 500 business and arts leaders at the theatre was Minister for Business, Enterprise, and Innovation, Cavan-Monaghan Heather Humphreys, TD.
Heather Humphreys TD, Minister for Business, Enterprise, and Innovation said:
"The relationship between business and the arts, demonstrated by these Business to Arts Awards, enables businesses to be more innovate, more creative, and ultimately deliver meaningful impact for society. Businesses increasingly understand that it is not just economic impact that matters. More and more are coming to understand that a sustainable and successful business is one that has a good CSR strategy at its core.
I want to congratulate all of the businesses and arts organisations that have participated in the Business to Arts Awards this year and hope that these wonderful partnerships will continue to grow and flourish in the future. My goal through Ireland's National Plan on Corporate Social Responsibility is to make Ireland a Centre of Excellence for responsible and sustainable business practice. These Awards make a very important contribution to achieving that goal and I'm sure it will help to inspire more exciting collaborations between business and the arts."
Speaking at the announcement of the winners, Sean McGrath, CEO of Allianz Ireland, said:
"For the last 19 years, the Allianz Business to Arts Awards have remained a source of inspiration to us all at Allianz and the 2019 awards have lived up to the high standards set across the many years of their existence. Yet again we are impressed by the significant mutual benefits derived by both business and arts organisations through their innovative collaborations. Of growing importance within this powerful initiative are the community and wider societal benefits enjoyed by us all when business and arts organisations partner to achieve some truly amazing results. By showcasing what is achieved, the annual Allianz Business to Arts Awards remind us that we are all winners of this truly extraordinary process of collaboration"
Andrew Hetherington, Chief Executive of Business to Arts, said:
'With our partners Allianz, we are delighted to celebrate the 2019 Allianz Business to Arts Awards wining partnerships. These relationships are proof that businesses in Ireland are increasingly looking to arts and culture to address business opportunities and societal challenges. Encouraging creativity is at the core of many of the winning projects. Business to Arts' flagship event continues to enable, develop and support creative partnerships. We call on businesses across Ireland to engage with their arts and cultural neighbours.'
The awards recognise large, mid-sized, small and long-term sponsorships, staff engagement activities, commissioning, corporate social responsibility programme, community engagement and portfolio-based partnerships.
For the 28th anniversary of the Allianz Business to Arts Awards, the awards sculpture once again has been commissioned by daa. This year's sculpture 'Symbiotic' was created by Mayo based artist Emma Bourke.