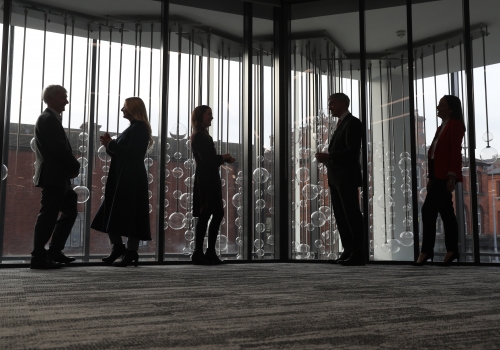 29 Jan 2019
The McGarrell Reilly Group and Business to Arts have unveiled a new piece of sculpture named 'Rise' by artist Alva Gallagher. Gallagher was commissioned to create the new artwork having been selected after an Open Call to Irish and international artists for 'The Sharp Building Commission'.
The brief to artists was to create an original and innovative sculptural installation in response to unique environment, architecture, historic and cultural references associated with the new building and its location off Hogan Place in Dublin's South Docklands. 'Rise' is a double-height glass sculpture that is visible from both the interior and exterior of The Sharp Building and can be seen by office staff, local viewers and commuters in the Docklands Area.
Award- winning Irish sculptor, Alva Gallagher, is a visual artist whose work involves a continuous exploration of oceanic movements and elements. She is passionate about the sea and mirrors its ferocity and serenity through the manipulation of her chosen mediums (glass and bronze) from their molten to solid states to explore concepts of depth and rhythm. Alva has exhibited extensively. Recent highlights include the Royal Society of Marine Artists Annual Exhibition at the Mall Galleries, London; CAST at The Wayne Art Institute Philadelphia; The Traver Gallery Seattle, USA; and The Saatchi Gallery, London. Her work appears in State, National and International Collections, including The OPW, The National Museum of Ireland Collins Barracks, BMW and in the iconic 'Gherkin' building in the city of London.
Alva Gallagher hails from the fishing village of Killybegs, Co. Donegal and said:
"I am so honoured to be the selected artist for The Sharp Building commission and to have my work interwoven into this stunning new landmark building in Dublin's urban landscape. I am thrilled to have worked along side the Mc Garrell Reilly team, Business to Arts and G&S Stainless Services Ltd and to now see my piece 'Rise' ascending within the unique contemporary aesthetic of the Sharp Building as a modern sculptural portrait to signify the evolving future of the City that the Sharp Building exudes."
Deirdre Reilly, McGarrell Reilly Group states:
"McGarrell Reilly are very proud of the Sharp Building and we decided that it would be fitting to have an impressive work of art to showcase on this prominent street corner. We are delighted and proud to commission the wonderful renowned Irish visual artist, Alva Gallagher, to create an original, fitting and beautiful glass sculpture to showcase in the Sharp Building for the benefit of all who will work here and those passing by on the street."
Andrew Hetherington, Chief Executive, Business to Arts states:
"We have been so impressed with the approach Alva and McGarrell Reilly have taken with this commission. This beautiful new glass and stainless steel artwork continues McGarrell Reilly's tradition of incorporating artwork into new buildings during their construction phase. 'Rise' is magnificent and those working, living and commuting in the Docklands will be able to experience the ceiling sculpture as they pass the Sharp Building."