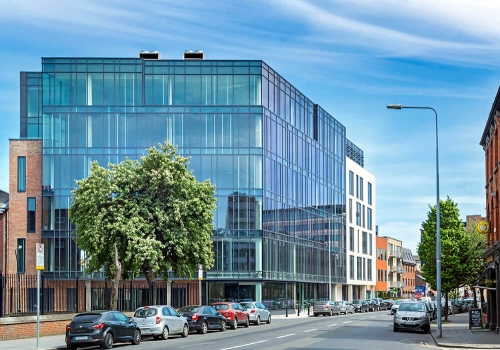 06 Jun 2018
Irish Times 6th June 2018
Perrigo, the leading global healthcare supplier, is to rent an impressive new €20 million headquarters office building developed by the McGarrell Reilly Group at Hogan Place, Dublin 2.
Perrigo specialises in affordable healthcare products. In 2013 it acquired the Irish biotechnology company Elan in a cash and stock deal for about $8.6 billion (€7.34 billion). It has now agreed a rent of €592 per sq m (€55/sq ft) for 4,180sq m (45,000sq ft) in the new six-storey, over-basement block with parking for 40 cars and 56 bicycle spaces.
A new coffee shop, The Art of Coffee, is also to open on the ground floor of what is to be known as The Sharp Building, named after George Sharp, the Irish portrait and figure painter who resided in Hogan Place in the early part of the 19th century.
Perrigo has agreed a 12-year lease of the new block with five-year rent reviews and the option to renew the lease for a further 10 years.
McGarrell Reilly Group, a long-time supporter of the arts, has commissioned a work of art by artist Alva Gallagher for the double-height reception area in the new block. She is now working on a "modern sculptural portrait representing the evolving future of Dublin city", which will be visible from both inside and outside the building.
Sean Reilly of McGarrell Reilly is no stranger to Hogan Place, having previously developed a 16,500sq ft office block on the same site in the early 1990s and a 10,000sq ft extension a few years later.
Both blocks were originally occupied by the Health & Safety Authority managed by then Minister for Labour Bertie Ahern. The authority remained in the redbrick buildings until the end of 2006, by which time Reilly was fine-tuning plans to redevelop the entire site.
Gary O'Hare of KMD Architects was engaged at an early stage and was quick to demonstrate his expertise and passion for every element of the new block. He was particularly proud of the fact that his newly designed glazed building would have no back to it – it would be "beautiful from all angles". And so it is
Planning approval for the new building came through in 2012 but Reilly was reluctant to proceed with the venture because of unfavourable market conditions. In the meantime, the older block was let on rolling, short-term leases to a range of different companies. By 2016 the economic prospects had considerably improved and with financial funding available from Cardinal Capital, Reilly proceeded with the project.
The Sharp Building now sits prominently on a street that is much sought after and shared with the One Building, occupied by online payments firm Stripe; KBC in the former Archers Garage; Twitter in Cumberland Place; and Googlein Velasco. The location is also first class – between Grand Canal Square, Merrion Square and Grafton Street, all a few minutes' walk away.
Irish Times: Perrigo takes 12-year lease on 45,000sq ft at Hogan Place